Mother Mary's Attributes
Mother Mary's Attributes …by Bishop Manny.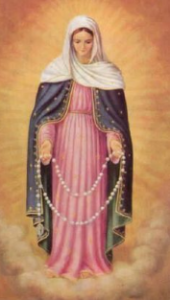 The Blessed Mother is celebrated this month of January. Most Catholic churches see her as a role model for a well-guided spiritual path. By looking closely at the Blessed Mother's response to her encounter with the Angel Gabriel, we can see great attributes can lead our lives in this year of change and grace, 2017.
Let's take a look at these attributes of hers: Humility, open-mindedness, adventure, and her courage.
Mary Faced a daunting spiritual challenge, as she became the living Chalice that carried the Essence of the Divine in a human form. Her humility in accepting God's invitation to be the mother of Jesus, knowing that getting pregnant would almost certainly cause her death by stoning. She was willing to make the sacrifice for the sake of others. Her YES changes the future of mankind for good for those that hear the message.
Mother Mary's open-mindedness created opportunities not just for her personal growth, but for a spiritual awareness and enlightenment for many to come. Her faith guided her just as she is guiding us now. If we allow her, we can see our surroundings with a global vision and see ourselves as integral parts of creation and continuous development of our spiritual lives. We are invited to expect the unexpected in 2017.
The Blessed Mother had a sense of adventure. Yes, adventure. Not just on her uncharted spiritual life but in her social life as well. She accepted a great task of carrying a baby without being wed. Was she excite with the thoughts of being a mother? Probably yes. Was she afraid? Probably yes. Was she uncomfortable? Most likely. Yet she allowed her nurturing spirit to guide her "FAITH". She shows us that if we don't make and accept changes in our spiritual life, we may never grow and discover new paths of enlightenment. Mary's adventurous spirit guided the early church through uncharted waters, just as she guides us today.
Her courage is admirable, as she was ahead of her time. Why have so much courage in a world that is divided and self-centered? Because Mother Mary showed us that way already by her example of simplicity and taking charge of the early church. She is guiding us to take charge of this new task that is presented to us. We are not risking our lives as she did, we are risking our fame, our image, our reputation. Not much in comparison to her challenge.
The uncertainty of tomorrow propel us to a new beginning, as long as we keep Mother Mary as our beacon, we will find a safe passage, bringing forth a new light. Where there may be conflict, lack of understanding, lack of hope, and back stabbing, Mother Mary will show us a clear path. So let us get out of our comfort zone and do what must be done. To Followed her.
As long we keep our sight on the Blessed Mother our paths will unfold before us, showing us the beauty of the Divine within. May we listen to her channels; may our lifelong commitment to spiritual growth take us to new heights, transforming our lives, our families, the communities around us, transforming the world.
May it be so.
Thank you
In Faith and in HER Service.
Rev. Manny E-Beltran, MMI