Closing the Old Doors of Past
A Meditation from Bishop Mary Martin
Opens our Present . . . into the Gate of Goodness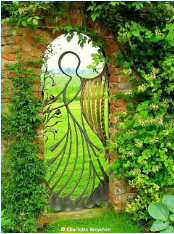 As we Gather in this Garden, we Stand Tall before the Gate of Goodness, as a Present is being Opened for All to see.
It is time to Step Forward and be Free from the Revolving Doors of Past.
Time to Relinquish that of what no longer Serves us.
It is time to Evolve, Rise and be Remembered.
We are Ready, Willing and Available to Create, Activate and Awaken our Embodiments System, as we are Given our Present to Open this Gate of Goodness.
Within the Code of Completeness, we recognize that so much of what we have been working for and toward is upon us now. We can Feel the Living-Light-Energy in and around us. We are fulfilling that of what we have come here to Complete.
We are Listening, we are Gathered, we are Creating and Sowing a new Earth of Plenty.
Every one of us has worked so hard at Completing Old Karmic-Contracts, from that of people, places, events, situations and/or anything that may have kept us in Debt from Receiving.
Well, here we are at the tail-end of this 9 year in its Code of Completion. We are so Ready to Begin our Brand New. We have worked so hard, we have strived so long to get-er-done, and be Released of the Old, as to Increase into the Brand New.
The Universe is so Proud of You. You have been Watched over, and have been given Assistance from your Angels, Guides, and Spirit-Family to help you in this Code of Completion. It is time to Release the Looping Patterns of your Past and to Harness your Present as a Gift of Grace and Love.
As we have Arrived at the End of 2016 (a 9 year), which represents Completion, we are on the Cusp to a New Beginning with many great things to come. With the Key of Trust, we Continue the Pledge of Pushing through the crumbling Brick and Mortar, as we begin to Build anew with Love and Light.
2017 a 1 year ~ Beginning.
We waltz into 2017 with a New Attitude, Awakened and Arrived.
We are Fresh, Revived, Empowered, Plenty, Energized and Available to many New Experiences about to begin. We must Continue to Co-Create and Sow New Patterns of Light as to Thrive and Stand Fully Alive and Awakened.
"While Light, Life, and Love are part of all that we naturally see and experience, they are veiled or hidden by our attention to the material and the mundane. The mystical student's intention is to remove, one by one, these veils so that, to some degree, a greater realization will appear. For although Light, Life, and Love are obscured, in removing the veil, a realization dawns that Love, for example, gives birth to all that is good and renders purpose to that which is named "Beauty." Love is boundless and eternal, and it assures continuity in the expression of all experiences." Dr. Lonnie Edwards